In Cammarata, San Giovanni Gemini and Castronovo di Sicilia, in the Sicilian provinces of Agrigento and Palermo, in a fertile and uncontaminated hinterland,  you will find this agricultural & dairy farm which has belonged to the Guanà family for many generations.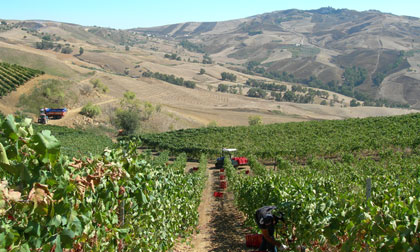 Maria Francesca Guanà runs her estate, which extends over 220 hectares of arable land, vineyards and olive groves, in accordance with the criteria of organic agricultural and dairy farming.  She is deeply convinced that only the rediscovered respect for the earth, nature and its rhythms can create produce with unique and authentic characteristics.  The vineyards in the hills of Cammarata, positioned in well ventilated high ground at an average height of over 500 metres above sea level, exemplify this company's philosophy and every bunch of grapes is amiably directed to express itself and its potential in accordance with nature.
Residing  in  the DOC region of Contea di Scalfani, renowned for its great wines, the vines  have a density of 5000 vine strains per hectare,  cultivated using the 'a spalliera' system, in predominantly sandy soil,  with a slightly acidic ph and with sunny exposure; resulting in a micro area of particular interest where the two varieties cultivated, Syrah and Nero d'Avola, have developed specific organoleptic characteristics of great prestige.